President's re-election may have unexpected result
President Barack Obama's recent reelection has created a wide range of opinions on whether or not American's have made the right decision; in some cases, these opinions have turned to action. For over 100,000 people representing more than 20 states, President Barack Obama's reelection has induced panic enough to cause petitions asking the Obama administration to allow for secession from the Union.
This idea seems far-fetched to some, however, secession may not be as impossible as first expected. According to the White House's official petition website, set up to allow citizens of the United States to petition the government, any petition receiving 25,000 online signatures on the "We the People" page within 30 days of posting will receive a review by the appropriate executive department and a response from a member of white house staff. Currently, the petition for Texas to peacefully secede and create a new government has more than 110,000 votes, demonstrating the possibility of a successful petition to secede.
"I think it's absolutely crazy, I just don't understand how these states can expect to successfully govern themselves as a country. I believe history can repeat itself and I would hate to see this turn into chaos," student journalist Robin Brown said.
Two weeks after the President won office for the second time, it is beginning to become clear that many are not content with the outcome of the election. However, the possibility of states seceding from the Union is still a ways away.
"It doesn't seem to me like secession from the Union is something we need to worry about as Obama won both the electoral and popular vote," student journalist Raika Casey said. "If the numbers were high enough to get a majority together to successfully petition for secession they would have also been able to vote Mitt Romney into presidency."
Although secession is unlikely, signatures for these online petitions rise everyday. With enough backing, the idea of a separate country is a potential reality. This outcome could be a disaster for the future of America and the upcoming generation.
"It's frightening to think that we could have to start dealing with all these pressing and avoidable internal issues, especially when our country is trying to be united for the sake of international troubles," Balfour Representative Grant Farmer said.
The election has been decided, but how the American people are to respond to another four years with President Barack Obama is still to come. Secession from the Union that is the United States of America is something that seems very unlikely, but is gaining popularity in some areas of the country. With this foreboding outcome as a possibility due to the reelection of our former President, it is important for the youth of the United States to keep a close eye on these petitions as they may have a substantial impact on their lives.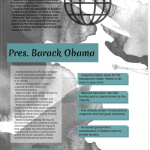 [soundcloud url="http://api.soundcloud.com/tracks/67695278″ params="show_comments=true&auto_play=false&color=520c7e" width="100%" height="81″ iframe="false" /]